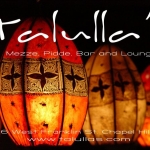 When you walk through the shadowed glass doors of Talulla's, an instant transformation begins to occur. Your mind and body begin to relax. Your ears pick up on the eclectic mix of music. Your eyes wonder around the walls, decorated in Turkish rugs; then the ceilings, scattered with warm, unique lighting pieces; then the floors… the dark, hardwood floors; and finally, across the plush seating areas, disguised by cushions and pillows and fabric leisurely draped around the frames.

Established in 2004, Talulla's has become a favorite dining and late night destination amongst locals and visiting foodies alike with our unique Turkish Cuisine.
Served in an authentic setting, the extensive menu is a culinary journey of centuries-old Ottoman recipes dating to the 15th century. From varied selections of hot and cold mezzes to delectable presentations of grilled lamb and other meats, the flavors and atmosphere whisk you away to Turkey.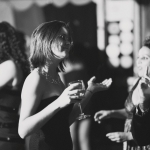 Surrounded by antique rugs, ambient music, the well-knowledged staff treats your senses to a cornucopia of exotic tastes using top-quality meats and organic vegetables.
We recreate meals shared with friends and family as they have been for the past five hundred plus years, paired with an eclectic selection of Turkish and global wines from our cellar. As a family-run business, we strive for perfection in our attention and hospitality, proudly recreating memorable shared experiences for which we have received many accolades. Come and let us share our heritage with you and your family at Talulla's.